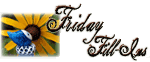 1. I'm looking forward to
more snow, hopefully!!
next week.
I know, I know. Everyone else wants spring, but I want more snow. I love it, and it still gets the kids out of the house for some outdoor play.
2. I don't handle
when my husband is sick or emotional
very well.
or so he tells me.
3.
Anything that is yummy
is something I could eat every day.
I'm a very repetitive person, and can eat or drink the same something'er'other for long periods of time before I will finally be ready for a change.
4. Warmth and sunlight
make me smile, make me relaxed
.
5.
Kitchen,
here I come!
I can't believe how much time I spend in the kitchen. Cooking, cleaning up, that's where we do school, too. But most of the time it's cooking....and cleaning. Mostly cooking...but then, there's the cleaning.
6. I
don't care about
tattoo(s).
Most of the time, it's the person, not the tattoo. Depends on the tattoo, though.
7. And as for the weekend, tonight I'm looking forward to
going to bed early
, tomorrow my plans include
adding two kids with bronchitis to my usual long list of daily to-do's
and Sunday, I want to
go see a movie
!
whether I will or not...shall remain to be seen.